Free Case Study: Jack Victor
Find Out How You Too Can Make Payroll & Benefits Easier Than Ever Before!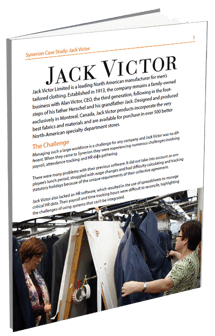 Jack Victor is a leading North American manufacturer for men's tailored clothing.
Until recently they manually tracked employee time and attendance, which proved time consuming and would easily allow for clerical errors.
This case study will teach you the
benefits of automating time and attendance
for any size business and how it can
seamlessly integrate into your payroll systems.
How Jack Victor overcame their payroll challenges

Why they chose Synerion

The results and benefits they experienced as a result of Synerion's WFM