Free Whitepaper: Dollars and Sense: How an Automated Time and Attendance System Can Help Your Business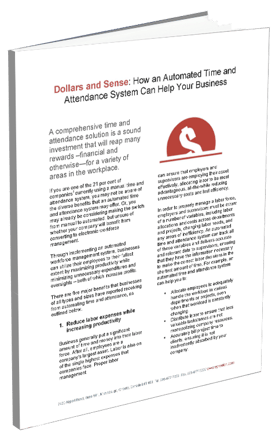 Make a sound investment with a comprehensive time and attendance solution.
If you are one of the 21 per cent of companies currently using a manual time and attendance system, you are definitely not aware of the benefits that automated time and attendance can offer.
If you're looking to maximize productivity while reducing unnecessary costs (both of which will increase profits FYI), consider automated time and attendance. Other benefits include:
Reduced labour expenses

Elimination of payroll errors

Happier employees
To find out more about how automated time and attendance can benefit your business, fill out the form on the right and download your copy of our whitepaper today.